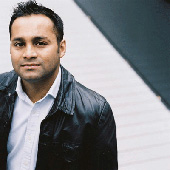 "Happy is he who gets to know the reasons for things". I wish this 2000 year-old statement from Virgil was enough to deal with the question that must plague teachers all over the world — "what's the point of this?" But, as someone who's just returned to the teaching profession after a seven-year break, I can assure you it's not.
I teach at an inner city comprehensive school where science, as in all UK schools, is compulsory for all students up to the age of 16. As well as trying to get my students to understand electrical circuits or Newton's Laws, I make an effort to convey to them that science is important, that it's something worth doing for reasons beyond the need to pass exams.
Anyone who knows me will confirm that I wear my passion for science on my sleeve, but I don't think that's enough to convince all my students that science is important. Nor do I think, like some in my profession, that the importance of science is implicit in the courses we teach, that it will somehow seep into my students' consciousness through the sheer number of hours they spend doing "science" at school.
So, I've started this film and blog project in which I want to ask the question "why is science important?" to people who feel the importance of science so deeply that they have dedicated their lives to it — working scientists, science writers and, of course, science teachers. I'm making a documentary, funded by The Wellcome Trust, and running this "collective blog" as I work on the film. Bits from the blog will appear in the film and bits of the film will appear on the blog. The idea is that the two will inform and enrich each other.
I'm hoping that this project will help me arrive at an answer to this question; an answer that speaks to readers of this blog, as well as my students, and convinces them that science is important. Furthermore, I want this project to reach people who don't think science is important and convince them otherwise. I want it to demonstrate that science is absolutely crucial to the future wellbeing of our world, that its contribution to culture is as significant as that of music, art or literature and, most important of all, that a sound appreciation of science is vital to realising your potential as a human being. I want this project to make it far, far easier for any science teacher to be able to answer that inevitable question, 'what's the point of all this?"
So please take a look and, if you've got something to add, please get in touch.